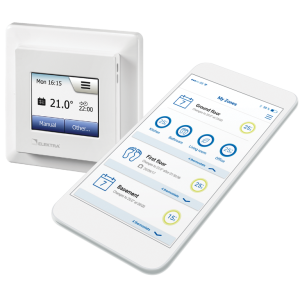 Temperature controllers that guarantee high comfort for users of all heating systems. Control and adjustment are basic conditions of operating costs reduction.
COMFORT
PRECISE
SAFETY
ECONOMY
Room Controllers
They combine advantages of electronic controllers with digital circuit "intelligence". A possibility to program temperature in 24h and a week cycle. A possibility to read out on a LCD such data as: a room real temperature, previously programmed comfort and economic temperatures, a heating system operating time, a program number and its graphical image. Selected models have an adaptation function: the temperature controller "calculates" itself the heating switching off moment to reach a desired temperature at a programmed time. Load up to 3600 W. They can be surface or sunk installed.
DIN-rail Controllers
Controllers with adjustable hysteresis for DIN-rail installation.