Floor heating as the most favourable heating solution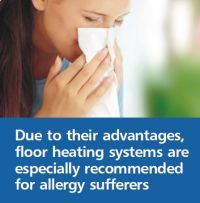 Of all heating systems, floor heating's vertical temperature distribution in a room is the closest form of heating to the physiological body temperature distribution. Floor heating is a low temperature heating solution (floors will reach temperature levels of approx. 26°C), the entire floor constitutes the heating element.
The advantages of these characteristics are as follows:
no combustion and dust convection which causes allergies,
no draughts,
no drastic temperature differences in rooms,
no dry air.
Floor heating means:
indoor climate comfort for users – even room temperature distribution, favourable warm floor effect,
interior designs are not compromised by bulky heaters, boilers, chimneys, and water or gas pipes,
low capital costs,
decentralized heating regulation and control of individual rooms possible.

Efficiency of electric floor heating will depend upon the floor thermal insulation's thickness. This variable is especially significant for ground floors or floors positioned above unheated rooms.
Approved finishing materials for heated floors are as follows: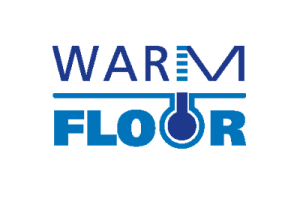 floor tiles such as marble, ceramic, porcelain or terracotta,
fitted carpet (of max. thickness 15 mm including underlay),
thin floor-glued wood parquet,
laminate / engineered wood.

Each of the above materials (with the exception of floor tiles) must be approved by their producers for applications with floor heating. Also, they must be installed according to the producers' instructions.


Floor heating system can be developed on the basis of:
1. ELEKTRA VCD heating cables placed in a screed at construction stage.
2. ELEKTRA MD heating mats and ELEKTRA DM / ELEKTRA UltraTec heating cables placed in the layer of flexible adhesive or self-levelling compound laid directly under the finished floor on the floor base (concrete or timber).
3. ELEKTRA WoodTec™ heating foils suitable for placing under laminate or engineered wood flooring.
Underfloor heating products like ELEKTRA heating cables, mats and foils are covered by a 20 years warranty.


---

Floor heating - leaflet
(1.3 MB)