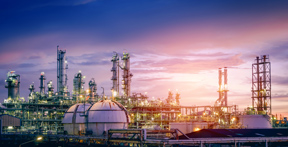 ELEKTRA industrial heating systems provide a wide range of solutions for the maintenance of industrial processes in pipelines and tanks. Frost protection, sustaining required temperatures and resistance against high temperatures of process media are typical challenges posed to industrial heating systems. ELEKTRA's solutions are designed for operation in chemically agressive environments, in applications connected with strict temperature requirements, including hazardous areas.
Such heating systems are optimal for industrial activities like for example:
– gas and oil exploration,
– chemical industry,
– pharmaceutical industry,
– power generation.
Efficient heating systems require precise control and system monitoring, which consequently transfers onto economical operation costs. ELEKTRA product range encompasses all components necessary to create a complete heating system, like heating cables, connection and end seal kits, junction boxes, temperature controllers & sensors and installation accessories. ELEKTRA provides as well a full range of installation accessories facilitating installation and later reliable operation of the system.
---

Elektra Industrial Heating Systems Product Catalogue
(1.3 MB)