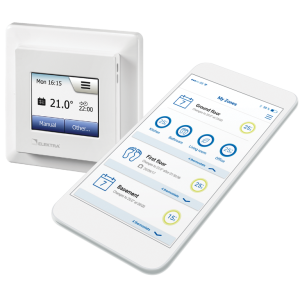 ELEKTRA MWD5 is the new version of the acclaimed MCD5 touchscreen temperature controller, giving it WiFi functionality on top of all its familiar benefits. This allows users to control electric underfloor heating systems on any scale via an app, giving them easy access to full control.
New functionalities based on reliable technology
By popular demand, the ELEKTRA MCD5 touchscreen controller for electric underfloor heating has been upgraded to a WiFi-enabled version that can be controlled by an app. This cloud-based solution combines an updated version of the MCD5 with the app. This means added functionality with complete reliability: the entire solution is based on tried and tested technology.

---
Main features of the ELEKTRA MWD5 WiFi temperature controller
Adds WiFi-based control to the acclaimed MCD5 Touch Controller
Remote access and control via user-friendly app
Assists energy savings
Universal compatibility with all the most popular electric underfloor heating systems
Simple set-up with installation wizard
Very easy installation
For individual control or heating zone control
Multiple users allowed
No gateways required
Supports WPS
All the benefits of the acclaimed MCD5 Touch Controller
Individual control or heating zones? You decide.
With the MWD5 users can choose to have each controller individually controlled – or to combine them in one or more jointly controlled heating zones.
The system can be easily expanded and reconfigured to match changing needs. And this easy scalability also makes it perfect for private homeowners' projects of all kinds – regardless of whether the client only wants comfort heating in a bathroom or underfloor heating throughout their home.
Easy control – and full details
The dedicated app makes it easy for users to organise their controllers to exactly match their temperature control needs. What is more, detailed information on energy consumption etc. allows users to control the heating to maximise their energy savings.
Allows access for one or more users
The OWD5 makes it possible to give more than one user access to controlling the system. The number of users is determined when the system is put into active use for the first time, but can easily be amended at a later date if the users' needs change. This means that access to heating control can always be adapted to suit the current users' needs.
High system accessibility – even if Internet access is interrupted
The robust system design means that users will retain full control of the heating even if their Internet access is interrupted: While the app is intended for complete everyday use. For example, they can set temperatures, program heating schedules, and activate special heating modes such as "Comfort" or "Frost Protection". Users can always access all programming options and functions via the built-in display you already know from the 2" colour touchscreen.
Easy, fully guided commissioning
Each controller has built-in WiFi, which means that you won't need any additional components such as gateways. All you need to get the thermostat up and running is to connect it to a compatible standard WiFi-router with Internet access. The built-in wizard takes you simply and swiftly through every single step, ensuring trouble-free commissioning. And we also pay attention to the little details, for example by supporting WPS for simple router access – no passwords required.
Connecting to the app takes seconds
The user-friendly app, available for Android and IOS, offers detailed assistance on how to install and connect the new WiFi-based controller. You won't need to consult any printed manuals: users are guided through the few, simple steps necessary to connect the controller to the app – and then they can enjoy full control of their heating system, easy access to energy consumption statistics and more.
Fast, trouble-free installation
Compact and neat, OWD5 is very easy to handle. Combined with the simple set-up, this brings you fast and trouble-free installation.
Full compatibility with popular sensors and frame systems
The MWD5 features the same extensive range of setting options and functions as the acclaimed MCD5 Touch Thermostat . This makes it the most complete and versatile thermostat for WiFi control of electric underfloor heating you can get. The MWD5 is compatible with all widespread temperature sensors and frame systems on the market, making it an obvious choice for upgrades of existing heating solutions as well as for new builds.
Technical specifications:
| | |
| --- | --- |
| Power supply: | 100-240VAC |
| Max. load: | 16A |
| Installation: | flush |
| Built-in switch: | 2-pole, 16A |
| Comfort temperature range: | +5°C; +40°C for each event |
| Economical temperature range: | +5°C; +40°C for each event |
| Hysteresis: | PI* |
| Ingress protection: | IP 21 |
| Dimensions (H x W x D): | 82 x 82 x 40 mm |
| Display: | 176 x 220 pixels, TFT |
| Wireless control: | WiFi (cloud) |
| Certificates: | VDE, BEAB |
| Product marking: | CE |
* adaptative system (proportional-integral) adjusting the deviation to the set temperature depending on the duration of the temperature's increase or decrease. Due to this feature the controller's operational characteristics is self-adjusted to ambient conditions, in real time.


---

OCD5 OWD5 MCD5 MWD5 - installation manual
(1.2 MB)

OCD5 OWD5 MCD5 MWD5 - user manual
(12.0 MB)