A part of the name of the product, "Tuff", is intended as a play on the word "tough", signifying strength and durability, which perfectly characterize the features of the mat. High thermal and mechanical resistance properties enable application of the SnowTec®Tuff mats in places especially exposed to harsh installation and/or operation conditions.







---
Application
Elektra's SnowTec®Tuff heating mats are designed to heat up driveways, ramps, walkways, porches etc. Due to a crucial parameter, which is excellent resistance against very high temporary exposure temperature (240°C), making the SnowTec®Tuff a perfect choice for installation in thermally challenging spots, even directly in asphalt.

Construction
Heating mats are made of one side powered ELEKTRA TuffTec heating cables of approx. 40 W/running meter. Distance between each run of the cable is 10cm. All mats are 0,6m wide and depending on the model – from 1,5 to 27m long. Typical length of "cold" power supply cable is 4m.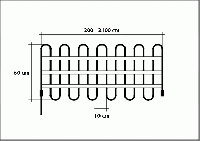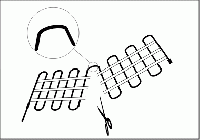 Installation
In most cases it could be considered as "very simple" depending on the particular location and application. For instance – if the driveway is to be heated – only parts that are actually driven on could be made to be heated by means of installing just two or four long mats parallel to each other in the anticipation of your car/cars width. If larger areas such us outside porch are to be heated – simply more of the mats needs to be installed.

Control
To have the simple and complete installation a special thermostat equipped with temperature and humidity sensor to constantly check for icing.
More…
230V
Type
Dimensions (m)
Area (m2)
Power (W)
SnowTec®Tuff 400/1,5
0,6 x 1,5
0,9
310
SnowTec®Tuff 400/3,0
0,6 x 3,0
1,8
730
SnowTec®Tuff 400/4,5
0,6 x 4,5
2,7
1100
SnowTec®Tuff 400/6,0
0,6 x 6,0
3,6
1350
SnowTec®

Tuff

400/7,5
0,6 x 7,5
4,5
1800
SnowTec®Tuff 400/9,0
0,6 x 9,0
5,4
2150
SnowTec®

Tuff

400/10,0
0,6 x 10,0
6,0
2350
SnowTec®Tuff 400/12,0
0,6 x 12,0
7,2
2800
SnowTec®Tuff 400/14,0
0,6 x 14,0
8,4
3400
SnowTec®Tuff 400/16,0
0,6 x16,0
9,6
3650
SnowTec®Tuff 400/18,0
0,6 x18,0
10,8
4400
400V
Type
Dimensions (m)
Area (m2)
Power (W)
SnowTec®Tuff 400/2,5 400V
0,6 x 2,5
1,5
560
SnowTec®Tuff 400/5,0 400V
0,6 x 5,0
3,0
1260
SnowTec®

Tuff

400/8,0 400V
0,6 x 8,0
4,8
1940
SnowTec®Tuff 400/10,0 400V
0,6 x 10,0
6,0
2350
SnowTec®

Tuff

400/13,0 400V
0,6 x 13,0
7,8
3100
SnowTec®Tuff 400/15,0 400V
0,6 x 15,0
9,0
3870
SnowTec®

Tuff

400/17,0 400V
0,6 x 17,0
10,2
4150
SnowTec®Tuff 400/20,0 400V
0,6 x 20,0
12,0
4910
SnowTec®

Tuff

400/22,0 400V
0,6 x 22,0
13,2
5310
SnowTec®Tuff 400/25,0 400V
0,6 x 25,0
15,0
5800
SnowTec®Tuff 400/27,0 400V
0,6 x 27,0
16,2
6480
---

SnowTec heating mats - installation manual
(2.0 MB)