Easy Installation
Comfort
Safety
Cost Effective
Warranty 10 years


---
Application
Elektra's SnowTec heating mats are designed to heat up driveways, ramps, walkways, porches etc made of solid masonry materials.

Construction
Heating mats are made of one side powered heating cables of approx. 30 W/running meter. Distance between each run of the cable is 10cm. The mats are 0,6 and 0,4m wide and depending on the model – from 2 to 25m long. Typical length of "cold" power supply cable is 4m.

 
Installation
In most cases it could be considered as "very simple" depending on the particular location and application. For instance – if the driveway is to be heated – only parts that are actually driven on could be made to be heated by means of installing just two or four long mats parallel to each other in the anticipation of your car/cars width. If larger areas such us outside porch are to be heated – simply more of the mats needs to be installed.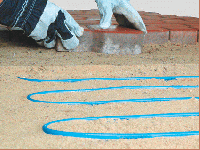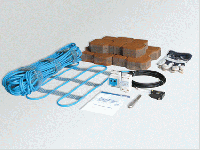 Control
To have the simple and complete installation a special thermostat equipped with temperature and humidity sensor to constantly check for icing.
More…

230V
| | | | |
| --- | --- | --- | --- |
| Type | Length (m) | Width (m) | Power Output (W) |
| 300/2 | 2,0 | 0,6 | 400 |
| 300/3 | 3,0 | 0,6 | 520 |
| 300/4 | 4,0 | 0,6 | 670 |
| 300/5 | 5,0 | 0,6 | 930 |
| 300/7 | 7,0 | 0,6 | 1140 |
| 300/10 | 10,0 | 0,6 | 1860 |
| 300/13 | 13,0 | 0,6 | 2560 |
| 300/16 | 16,0 | 0,6 | 2890 |
| 300/21 | 21,0 | 0,6 | 3730 |
| | | | |
| --- | --- | --- | --- |
| Type | Length (m) | Width (m) | Power Output (W) |
| SnowTec 300/3,1/0,4 | 3,1 | 0,4 | 370 |
| SnowTec 300/4,3/0,4 | 4,3 | 0,4 | 520 |
| SnowTec 300/5,0/0,4 | 5,0 | 0,4 | 590 |
| SnowTec 300/7,7/0,4 | 7,7 | 0,4 | 930 |
| SnowTec 300/9,6/0,4 | 9,6 | 0,4 | 1150 |
| SnowTec 300/12,5/0,4 | 12,5 | 0,4 | 1500 |
| SnowTec 300/15,0/0,4 | 15,0 | 0,4 | 1830 |
| SnowTec 300/16,5/0,4 | 16,5 | 0,4 | 2000 |
| SnowTec 300/20,0/0,4 | 20,0 | 0,4 | 2360 |
| SnowTec 300/24,0/0,4 | 24,0 | 0,4 | 2840 |
400V
| | | | |
| --- | --- | --- | --- |
| Type | Length (m) | Width (m) | Power Output (W) |
| SnowTec 300/2 400V | 2,0 | 0,6 | 400 |
| SnowTec 300/3 400V | 3,0 | 0,6 | 600 |
| SnowTec 300/4 400V | 4,0 | 0,6 | 820 |
| SnowTec 300/5 400V | 5,0 | 0,6 | 950 |
| SnowTec 300/7 400V | 7,0 | 0,6 | 1360 |
| SnowTec 300/9 400V | 9,0 | 0,6 | 1680 |
| SnowTec 300/11 400V | 11,0 | 0,6 | 2100 |
| SnowTec 300/13 400V | 13,0 | 0,6 | 2360 |
| SnowTec 300/15 400V | 15,0 | 0,6 | 2650 |
| SnowTec 300/20 400V | 20,0 | 0,6 | 3550 |
| SnowTec 300/25 400V | 25,0 | 0,6 | 4600 |
---

SnowTec heating mats - installation manual
(4.3 MB)

SnowTec heating mats - installation manual (US/CAN)
(2.5 MB)