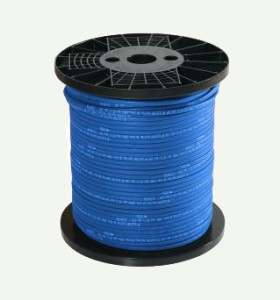 ELEKTRA SelfTec®DW self-regulating heating cables. Multi-purpose antifrost protection system, for applications both outside and inside of pipes. Certified for drinking water applications.
In-pipe installation enables anti-frost protection of:
pipelines under operation, with no necessity of removing insulation,
underground pipelines.





---
Features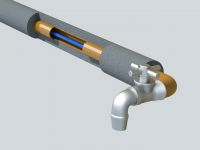 The 10 and 16 W/m cable output (at +10°C) was especially selected to account for the water heat capacity.
Available in a double layer polyolefin + LDPE sheath (SelfTec®DW), as well as a single layer fluoropolymer sheath (SelfTec®DW F). Certified for food contact applications, allowing for the in-drinking water pipelines applications.

The cables feature IPX7 protection rating, which will guarantee anti-shock protection when connected to the power circuit protected with a RCD.
Technical Data:
Power output (+10°C):
10 or 16 W/m
Power output (0°C in ice water):
16 W/m (SelfTec®DW 10 / DW F 10), 22 W/m (SelfTec®DW F 16)
Power supply:
230 V ~ 50/60 Hz
External dimension of cable:
7 x 10 mm (SelfTec®DW)
6 x 9 mm (SelfTec

®

DW F)
Min. installation temperature:
-25°C
Max. working temperature:
+65°C
Max. exposure temperature:
+65°C
Type of heating cable:
self-regulating, conductor screen, single-side power supply
Screen of heating cables:
100% coverage, PET covered aluminum foil,
tinned copper braiding
Conductor:
tin-coated copper 0.6 mm
Insulation:
modified polyolefin
Outer sheath:
double-layer, halogen free polyolefin + external LDPE, certified for drinking water applications (SelfTec

®

DW)

single-layer, fluoropolymer, certified for drinking water applications (SelfTec®DW F)

Min. radius of bending cable:
3.5 D
Max. cable length per circuit:
125m (+10oC), 120m (0oC),  70m (+10oC in water), 65m (0oC in water)
Max. circuit-breaker, C-type:
16 A
Product certificates:
EAC, FBUZ, PZH (SelfTec

®

DW) and NSF 61 (SelfTec

®

DW F) Hygenic Certificates
Certificate of ISO 9001:
IQNET, PCBC
Product mark:
CE
---