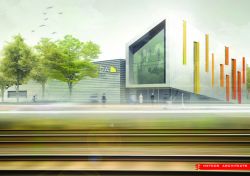 On account of finishing the investment process of the new office building and expansion of the production-storage facilities, from January 1st ELEKTRA company is moving to Ozarow Mazowiecki.
The new headquarters is a modern space creating favorable conditions for creative cooperation, designed in accordance with newest trends, adapted for the needs of handicapped, it also means increased production opportunities and a modern high-capacity storage facility.
Location in the vicinity of A2 highway enables comfortable transport connection.