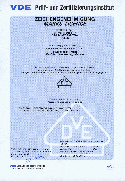 In June 2003 Elektra gained the certificate of conformity from the independent German testing institute VDE in Offenbach.
The certificate of conformity with the European norm EN-60335-1 and EN-60335-2-96 concerns all of the produced by Elektra heating mats – single and double power supplied, both 100 and 160 W/m².
The mats were tested by VDE according to the latest European norm EN-60335-2-96* issued in 2002.
It's the first test of heating mats according to this norm, which has much higher requirements then the previous one.